Who is Dan, and what's his story?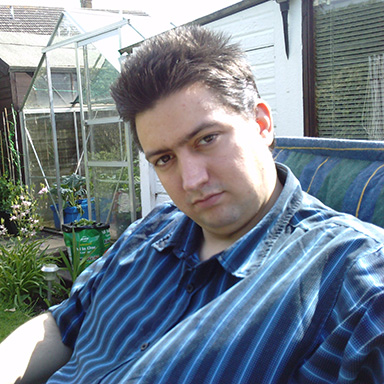 Name:
Dan
Age:
44 years old
Location:
North-West United Kingdom
Hobbies & Interests:
Electronics
Computing
Programming
UNIX Operating Systems
Amateur Radio
Programming Skills:
PHP, C, C++, Shell, BASIC, Pascal, x86 Assembler
Other Skills:
Security consultancy, System Integration
UNIX System Administration, Internetworking & Design

I grew up in a picturesque area of the West Midlands called Shropshire.
During the 1980s and 1990s as a child, I have many fond memories of my hometown.
Like so many places, the area today is mostly unrecognisable from how I remember it.
I still have the majority of my family living in my hometown (or nearby) and I don't get to visit as often as I would like.

As a young child, I owned an Atari 8-bit computer (an Atari 600XL and later 800XL) and learned to program in Atari BASIC as I grew up.
Junior school introduced me, briefly, to the BBC Micro computer. My experience of this computer was fairly limited, but I had a keen interest.
At secondary school, I got my first look and taste of the x86 PC (predominantly Opus Technology PC IV 80286 computers). Once I saw these, I was hooked although I didn't get a PC of my own until i was around 14 years old.

I always said during my secondary school years that it was my aim to become a computer programmer later in life.
During my teenage years, I taught myself BASIC, Assembler, Pascal, and some basic C.
I actually completed my GCSE Computer Studies coursework in Borland's Turbo Pascal with Turbo Vision elements.

I completed my compulsory education after achieving my GCSE examinations in the 1990s. I went to college briefly to study Maths, Physics, and Computing A-Level courses before deciding that the higher education path was not for me.

I left college while 16 years old, and began work for a mail-order computer company. I divided my time between technical support and PC building and after a year or so moved onto laptop repair also.

It was during this time that I gained an interest in UNIX based operating systems.
Although I did use Slackware Linux at the time, I was always drawn to the BSD operating system and I ended up spending a lot of time learning FreeBSD.
I remember installing FreeBSD version 2.2.0-RELEASE from floppy disks many years ago, and I still use FreeBSD to this day. It will, most likely, forever be my server OS of choice.

At 18, I was offered a job working for a web design company. This was a big step for me as it involved moving across the country to the North-West.
I accepted the job, relocated to Manchester, and worked as a System Administrator and web designer.
This is where I first discovered, and learned PHP. I love PHP (even for all its faults), and I continue to use it to this day for quick tasks.

The company evolved into an web application design company which also offered consultancy services.
During my time there, I provided consultancy for some large national companies with dealings with large multi-national companies. This also allowed me to visit offices in Munich, Germany.

Whilst I enjoyed my time in Manchester immensely, the company ownership changed and the new owners wanted to take the company in a new direction (towards Search Engine Optimisation).
This was of very little interest to me, and also involved changing my role significantly.
As a result, I resigned and started my own Internet Service Provider providing Colocation and Connectivity services from London, UK.
To reduce costs, I moved back to my hometown with my parents.

I loved my time operating my own ISP, but various corporate buyouts of key suppliers lead to some steep price increases and also some heavy customer losses.
As a result, my company went into liquidation in October 2008 and became a part of history.

Shortly after this, I approached one of my customers of my now non-existent company. It was a company I had worked with for several years and was a similar but more mature ISP.
In December 2008, I once again relocated to the North-West of the UK (this time just outside Manchester) and began work for this ISP.
My initial role was System and Network Administrator, but I progressed to a non-executive Director of the company within a few years.

Due to ill health, the owner of the company sadly passed away in 2017. As a result, myself and another technical member of the company proceeded with a management buyout of the company from the owner's estate.

I continue to own and operate the company along with my business partner to this day.

I program now only in my personal time.
I have contributed source code to a few projects over the years, most recently a utility shipped with the FreeBSD OS.